Sajian Warisan Nusantara @ The Pearl Kuala Lumpur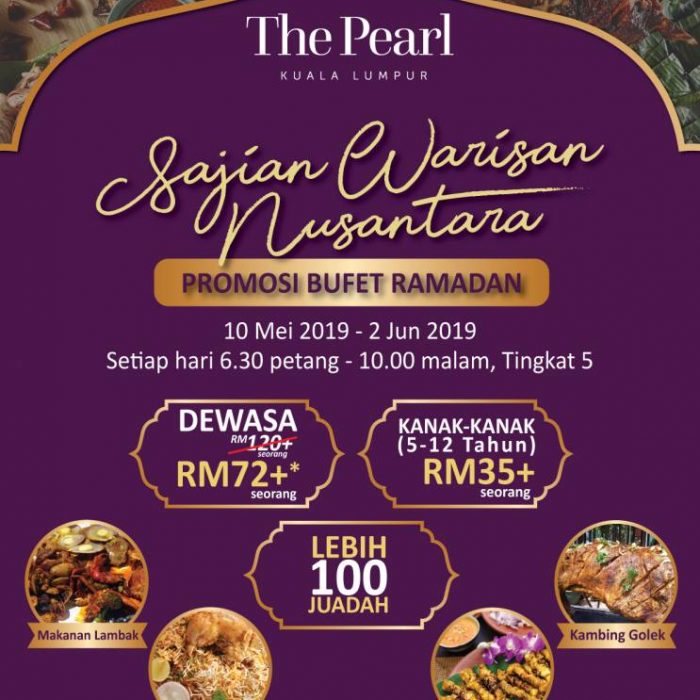 The Pearl Kuala Lumpur welcomes Ramadan 2019 with an array of a deliciously authentic Iftar buffet offerings during the holy month.
The hotel invites guests to share the ceremonial breaking of the fast with their loved ones in a relaxed, family-friendly setting of the Garden Terrace and Café 5, Level 5.
Strategically located between Kuala Lumpur and Petaling Jaya, The Pearl Kuala Lumpur is an iconic business class 4-star hotel located in the heart of Old Klang Road offering 555 comfortable guest rooms that are contemporary modern and tastefully furnished for a sweet slumber.
From sunset, guests may enjoy a plentiful array of Malay traditional specialties with more than 100 menus for our guests, and for the first time, we bring you a 4-piece Traditional Ghazal band accompaniment and a completely new concept of authentic Malay dining ambiance at our swimming pool and Garden Terrace Area.
Amongst the stalls and menus are:
Dried Fruit and Toasted Nuts Station, Cheese Platter, Cold Cuts and Sushi Counter, Rojak and Pasembur Stall, Do-It-Yourself Kerabu Stall (Asian Herbs & Salad), Carvery Station, Asian Style Shell-Out Seafood, Help Yourself Sandwich Station, The Kawah, The Fried Station, Seafood On Ice, The Raya Spirit Station, Briyani & Mandi Station, Pasta & Fried Noodles Station, Dim Sum & Pau Counter, The Chill Station, and many more.
A special promotion for the Ramadan vouchers, priced at RM72+ per person when you buy directly from our friendly sales personnel.
Daily from 10th May till 2nd June 2019
Dining Time:6.30pm-10pm
Adult:RM72+/pax*  (Usual Selling Price @ RM120+/pax)
Child:RM35+/pax [ 5 to 12 years ]
*Terms and Conditions Apply
For more information or to make a reservation, please contact restaurant reservations
603-7983 1111 ext: 3205 or 8945 
Whatsapp booking:016-331 9375
Email:enquiry@pearl.com.my
The Pearl Kuala Lumpur
Batu 5 Pearl Point, Old Klang Road, 58000 Kuala Lumpur – Malaysia.
Google Map:https://goo.gl/maps/G8Bf8WTdqaN2
Waze            :   https://www.waze.com/zh/livemap?h=w28399s5h
Ramadan Blogs – Click Links Below
YouTube    RamadanBlog1    RamadanBlog2    RamadanBlog3    GayaTravelBlog     StarOnline    KosmoOnline     ReefismTerritory