French-Chinese Contemporary Dining @ The Pearl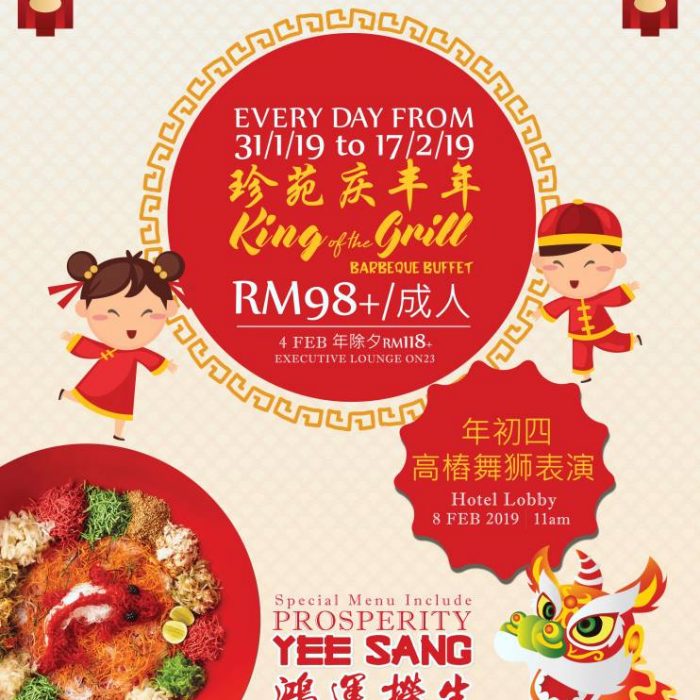 French-Chinese Contemporary King of The Grill BBQ Buffet this Lunar New Year @ The Pearl.
A spread of more than 50 types of French-Chinese Contemporary delicacies on our King Of Grill food theme, featuring the "Star of the Dish" – Oysters shucked fresh or have it baked or grilled and served right on your dining plates.
This "French-Chinese Contemporary " buffet is brought to you exclusively during the coming Chinese New Year Festival and is available every Fridays, Saturdays & Sundays.
However, from 31st January to 17th February 2019, it will be made available every day for your festive dining convenience. At a promotional price of RM98+ per adult, come and experience the uniqueness today!
To reserve your seats, please call 603-7983 1111 ext: 8945 ;6016-331 9375 (Whatsapp)
NOTE: From 31 JAN 2019 till 17 FEB 2019, this buffet is available every day on these dates.
Dining Time: 6.30pm-10pm
Adult: RM98+/pax ; Child (5 to 12 yrs): RM45+/pax
Gentle reminder:
[Executive Lounge On 23 @ Level 23]
4 FEB 2019, CNY Eve [年三十晚除夕夜]
Adult: RM 118+/pax, Child: RM 45+/pax
[Cafe 5 @ Level 5]
4 FEB 2019, CNY Eve [年三十晚除夕夜]
Adult: RM 98+/pax, Child: RM 35+/pax
The Pearl Kuala Lumpur酒店 on Every Friday, Saturday & Sunday night.
(**CNY Special KOG available every day from 31/1/19 to 17/2/19). 推出高空边赏KL夜景边吃到饱 CNY King Of Grill BBQ Buffet ,一人只需要RM98+ 就可以任吃啦!
还有专业厨师帮你烤好你所选的BBQ食材,让你吃烧烤也不会满身油烟味. 除了熟食,老板还为顾客们建了DIY 属于你自己口味的七彩鱼生& Oyster Bar 让您们品尝新鲜生蚝,挤上一小颗Lemon汁, 好好味呀
值得一提的是这里还有儿童美馔专区,为小朋友准备他们喜欢的食物,真是非常贴心. 在饮料区,特别要提到的就是英国闻名顶级Harney&Sons的进口茶,味道非常香,还有多款甜点.
餐客也可以点酒来配合这优美环境,这里也有红酒和其他酒,不过需额外收费. 吃buffet最大的好处就是每个人无需迁就任何人口味都可以选择自己最爱的食物啦,简直就是聚餐聚会的好去处。
>红酒和其他酒须额外的收费哦~.
>酒店也有承接收工宴,团圆宴和外卖鱼生,有多款鱼生选择.
>由于桌位有限,必须提前预订.

只限在2月4日除夕夜
Executive Lounge (Level 23)
RM118+/成人;RM45+/小孩(5-12岁)

Cafe 5 (Level 5),只限在2月4日而已
RM98+/成人;RM35+/小孩(5-12岁)