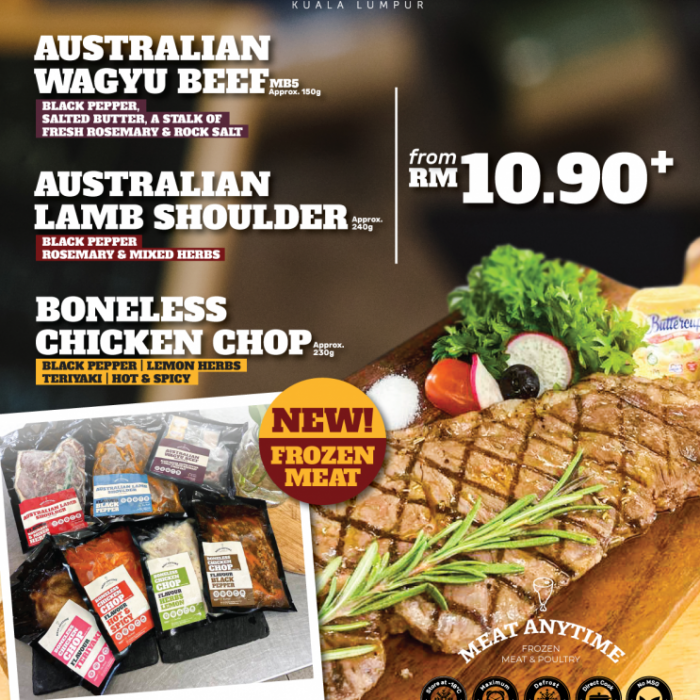 NEW! "MEAT ANYTIME".
Are you thinking of your dinner after a late evening in the office or an option to hold a joyful event, planning a party or even getting together when there is a sudden arrival of guests visiting you?
What's a better, more practical, faster and safer solution than…having us bringing you "Meat AnyTime", our latest Frozen Meat products to "meet" your convenience and needs far beyond your expectation from the moment you place an order…
Comes in a versatile range of:-
1)Boneless Chicken Chop (approx. 230gm / pc) @RM10.90+
Available Flavours
– Black Pepper
– Lemon Herbs
– Teriyaki
– Hot & Spicy
2)Australian Lamb Shoulder (approx. 240gm / pc)@RM25.90+
Available Flavours
– Black Pepper
– Rosemary & Mixed Herbs
3)Australian MB5 Wagyu Beef (150gm / pc) @RM78.00+ 
-Packed with Salted Portion Butter, Fresh Rosemary, Crushed Black Pepper, and Rock Salt
√ A Great Variety of Products
√ Fresh and premium quality ingredients
√ Marinated & seasoned by our master chefs
√ Meat products are available under strictly-controlled Halal Certification
√ Halal Meat
√ Various cooking methods, from steaming to frying or grilling on BBQ. Cook within an hour after defrosting
√ Carefully prepared and inspected for wholesomeness and quality
If you are interested, kindly call us at +6016 331 9675 or click on WhatsApp link wa.link/bm7ijt.
We will be waiting for your call real soon! Available for self-pickup and delivery too.
Terms & Conditions
√ Minimum purchase 3 packs / mix & match allowed
√ Delivery on Monday & Friday ONLY, between 2.00pm and 6.00pm
√ Delivery charges apply :    -RM10 < 10km  and  RM25 > 11km – 25km

Or enjoy FREE delivery ( max. – 25km ), when you buy a minimum of 10 packs Mix & Match (Chicken Chops or Lamb Shoulders) or buy 5 packs of MB5 Wagyu Beef