Bukit Jalil Sports Complex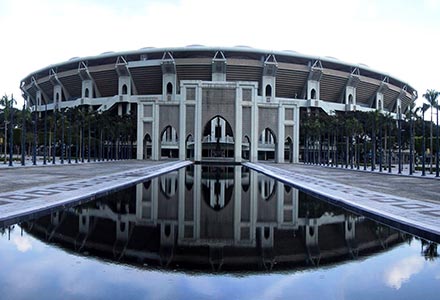 Bukit Jalil Sports Complex (For more information, click HERE)
Address: Jalan Barat, Bukit Jalil, 57000 Kuala Lumpur, Wilayah Persekutuan Kuala Lumpur, Malaysia
Capacity: 87,411
Opened: September 11, 1996
Hours:  9.00AM–5.00PM
Phone: +60 3-8992 0888
The stadium was built on 1 January 1995 to host the 1998 Commonwealth Games.  It finished exactly a year after on 1 January 1998.
After the 1998 Commonwealth Games in September, the stadium became the home stadium for the Malaysia national football team, replacing the Shah Alam Stadium and the Merdeka Stadium. It also served as the main stadium of the2001 Southeast Asian Games, 2008 ASEAN University Games and 2006 FESPIC Games.
Bukit Jalil National Stadium's capacity makes it the 24th largest stadium in the world and the 9th largest football stadium in the world. It is also the largest stadium in Southeast Asia. It was built by United Engineers Malaysia, Bhd and designed by Arkitek FAA. It was completed three months ahead of schedule. Designed to host a multitude of events, the National Stadium is the central and most prominent sports venue at the 1.2 km² National Sports Complex in Bukit Jalil.